01 - office hours are
ABOUT US
tanigawa clinic
OFFICE HOURS ARE
| | |
| --- | --- |
| Mon, Tue, Thu and Fri | from 8:30 to 18:00. |
| Wed and Sat | from 8:30 to 13:00. |
02 - medical courses
INTRODUCTION OF OUR CLINIC
02 - symptoms
ARE YOU FEELING ALRIGHT?
We handle all of the following symptoms :
Fever
Weariness
Change of weight in a short period of time
Sleep disturbance
Anemia
Body aches
Headache
Feeling dizzy
Pain in the chest
Heart trouble
Swollen face
Hot flashes
Cramps in legs
Stuffy nose
Runny nose
Sneezing
Pain in the throat
Lost voice
Phlegm and cough
Sweating while sleeping
High blood pressure
High blood sugar (Diabetes)
Difficulty breathing
No appetite
Vomiting
Nausea
Hiccups
Heartburn
Pain in the stomach
Abdominal fullness
Problems with bowel movement (Constipation/Diarrhea)
Tarry stool
Suffering from hemorrhoids
Liver trouble
Hyperlipidemia
Ingrown toenail
★ In case of an upset stomach, please come and see us on an empty stomach (5 hrs no eating), if possible!
04 -medical questionnaire
MEDICAL QUESTIONNAIRE
Please fill it out and bring it to the clinic with you, which will speed up your admission process when you visit us.
★ When you visit us for the first time, be sure to bring your Medical Care Certificate / Medical Card / Health Insurance Card.
05 - information
INFORMATION
| | |
| --- | --- |
| ADDRESS | 6-1 Wakaba, Nagasaki City 852-8137 |
| PHONE | 095-844-0417 |
| BY BUS / BY STREETCAR / BY CAR | Half a minute walk after getting off at Wakaba-machi. |
| PARKING LOT | Parking available [9 standard-sized cars and 3 minicars] |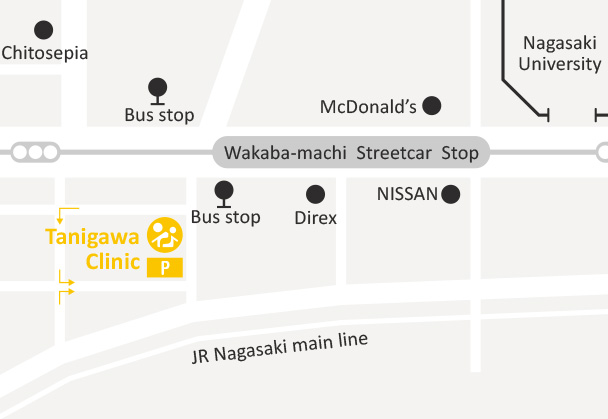 Go to Tanigawa Clinic
Be sure to bring your Medical Care Certificate / Medical Card / Health Insuranse Card
Pls. consult a doctor. That's all!